PHOTOGRAMMETRY LIDAR
Aerial Photos, orthophotomaps, DTM and DSM
We offer taking aerial photos using one of the newest photogrammetric, large format cameras made by Vexcel Imaging/Microsoft from UltraCam series and unmanned aerial vehicle (UAV) from TRIMBLE.
To process the images to "Level 3" we use the UltraMap software, therefore we obtain a very high radiometric (colour) quality of the offered images. Thus the subsequent technological processes are more efficient, reducing the costs of aerotriangulation, mosaicking of the orthophotos and final orthophotomap.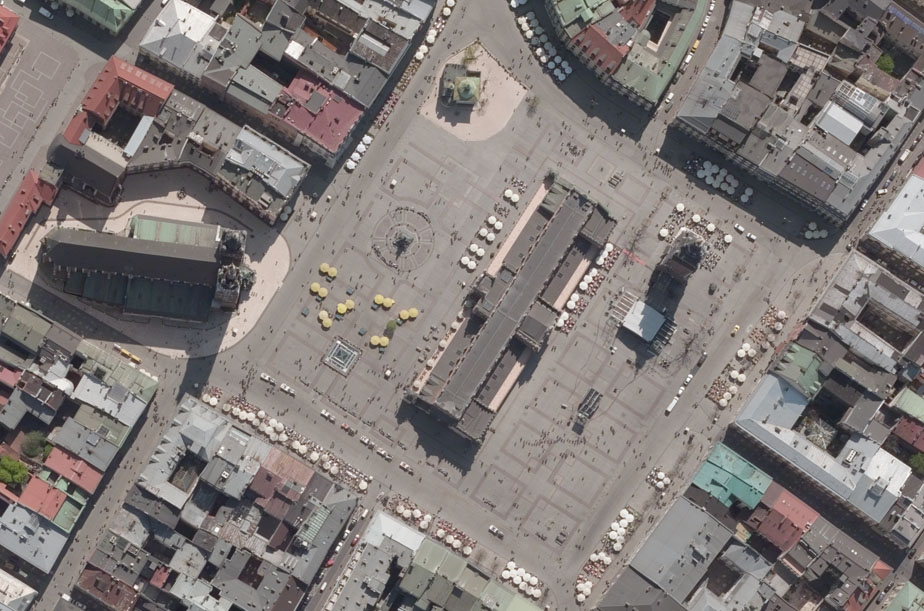 Cracow - Main Market Square. The Photo taken by UltraCam camera
Apart from the vertical photos we also take oblique aerial photos which provide additional interpretation characteristics and deparately or in combination with the vertical images enable full analysis of issues related to high-altitude objects. We offer taking oblique photos as well as vertical using a set of 5 cameras, 4 of which take the oblique photos and the fifth camera takes vertical pictures, as well as specialist UltraCam Osprey module cameras. This way we can obtain a uniform and cohesive terrain image in each view.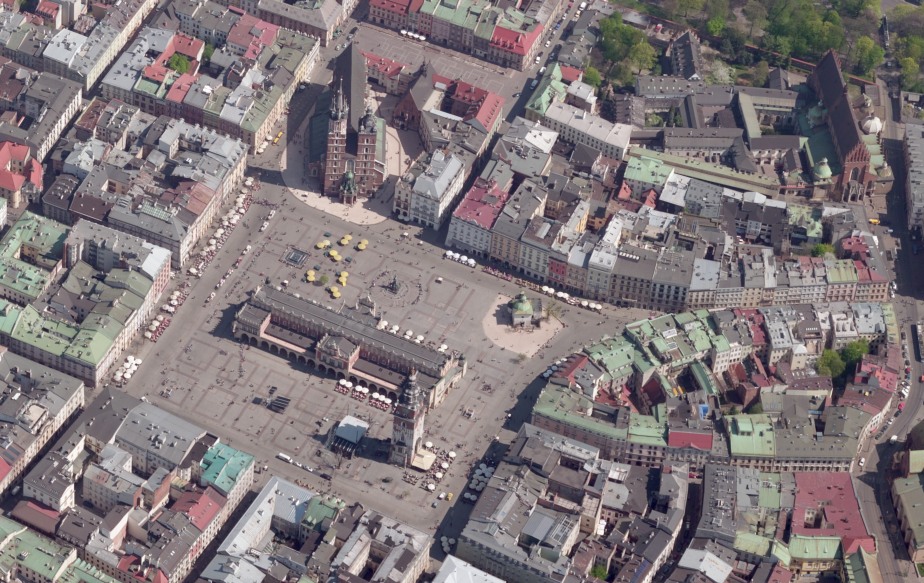 Cracow - Main Market Square. The oblique photo taken by UltraCam Osprey camera
Proper aerial oblique photos enable measurament of distance, area, height of buildings located above the ground level. Together with a set of aerila photos we deliver a specialist browser for the oblique photos and we also enable publishing these photos on the client's web page for everyone who is interested to see them. We take oblique photos in the resolution from several to several dozen of centimeters for the central part of of the photo. Taking into consideration the expectional importance of the Sun elevation above the horizon, when tha oblique photos are taken, we carefully choose the time of flight, so the radiometric value of the pictures is as high as possible.
Based on the vertical and oblique aerial photos we prepare 3D City Model using the automatic (PhotoMesh) and manual (stereoscopic method).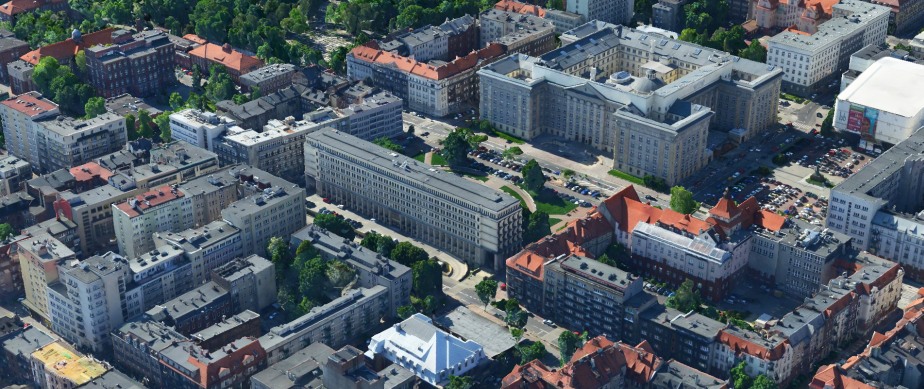 Katowice City. 3D City model prepared automatically based on oblique photos
As part of the photogrammetric services we also provide:
very high quality photos taken by TRIMBLE UAV

GCP signalling and measurement

aerotriangulation

orthophotomaps

Digital Terrain Model (DTM)

Digital Surface Model (DSM)

3D City model

consulting and training in the field of photogrammetry

comprefensive quality control of photogrammetric/LIDAR data

providing data for didactic purposes
LIDAR scanning
We provide a wide range of services in laser scanning, such as:
ALS and MLS

Control and reference terrain surveys

post-processing of LIDAR data

classification of points cloud

Digital Terrain Model (DTM)

Digital Surface Model (DSM)

thematic spatial 2D and 3D data base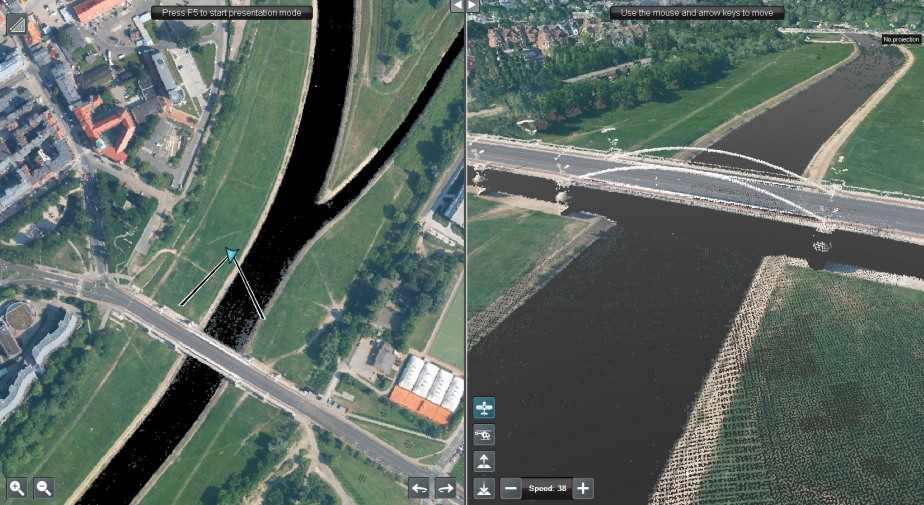 Point cloud RGB. Visualization in GEOVERSE software
Contact Photogrammetry/LIDAR
We encourage you to contact us in order to get acquainted with the full offer of our photogrammetric services - miroslaw.guzik@geoxy.pl